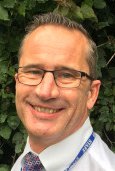 Phil Treacher
Secondary Head Teacher
Braeburn Dar High School is a co-educational day school, offering an international version of the National Curriculum of England, leading to IGCSE syllabuses provided by Cambridge International Examinations. Our focus is on providing students with the best education possible. This includes a focus on high academic achievement, with individual support or challenge provided as necessary, while physical, social and emotional development is nurtured in an international environment. We recognise each student as an individual and seek to nurture individual strengths and talents while providing a range of opportunities that allow students to develop into well-rounded and outward-looking individuals. We provide an environment in which self confidence and independence develop naturally and the international ethos of the school encourages tolerance, respect and an open attitude to the world around us. Braeburn is a friendly,  positive and welcoming place, where the success of each student, both while at school and in the future, is our aim. To this end, our teachers are fully committed to constantly improving the education provided to our students.  
Extra curricular activities play an important part in school life, allowing students to develop talents while enjoying new experiences. Leadership, communication, and the ability to work as part of a team are just some of the many skills enhanced by this programme which puts emphasis on activities recognised thoughout the world such as the Model United Nations, International Award and Community Service.
Sport is highly valued for its contribution to health, both mental and physical. Students have timetabled lessons in addition to participating in a wide variety of extra curricular sports. Swimming in our 25 metre pool is a particular delight throughout the year. 
At Braeburn we recognise the value of teachers working as a team with parents and students to maximise success. To this end, we operate an open door policy that encourages good communication and collaboration.
Curriculum
In Years 7 to 9, students follow an internationalised version of the National Curriulum of England. This enables us to take the best of the curriculum and adapt it for our context in Tanzania. There is an emphasis on the development of skills such as problem solving and analysis and the discovery of personal strengths. Throughout Key Stage 3 (Years 7-9), students receive careers guidance in a variety of formats. During term 2 of Year 9, students are assisted to choose the IGCSE courses that best fit their individual strengths and career aspirations.  
In Years 10 and 11 students follow the IGCSE courses provided by Cambridge International.  All students will study English Language, English Literature and Mathematics, plus one science. In addition, each student will choose five other subjects. Students with the ability to do so will be encouraged to take additional IGCSEs.
Hello from the Secondary Head Teacher
My name is Phil Treacher, the Headteacher of the Secondary Section. I have been a teacher since the early 90s having taught in the UK, Uganda, Dubai and Kenya.I have been with the Braeburn group since 2017 having taught in Nairobi before Dar. I have mostly taught Science and Physics in my career but have added Mathematics in the last few years.
I firmly believe in developing the whole child through the principles of the Braeburn Circles; Confident Individuals, Responsible Citizens and Learners Enjoying Success. This is through a rigorous programme of teaching and learning supported by strong leadership, excellent support for the teaching staff and world-class resources.
It is also through a strong and varied extra-curricular programme that will encompass areas such as performing arts, both competitive and non-competitive sports and other opportunities for our learners to develop holistically such as World Scholars Cup, debating and community service. We will certainly send our young people into the world as confident, responsible and successful citizens of the world.
I love living in Tanzania and leading the secondary school at Braeburn International School Dar es Salaam. My door is always open if you would ever like to discuss anything and I very much look forward to meeting all of our parents.